Card Services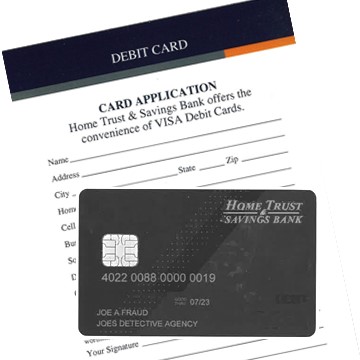 Debit Cards
Debit Cards are used like a credit card
Funds come directly out of your checking account
Usable at ATM machines for cash, inquiries and transfers
Daily limit of $1000 at point of sale
Applications are available at the bank or by clicking here. 
Complete and return to: 
Home Trust & Savings Bank
PO Box 150, Osage, Iowa 50461


YOUR NEW DEBIT CARD NOW SUPPORTS CONTACTLESS TRANSACTIONS!
Contactless means you don't have to insert your card into the terminal and wait.
HOW TO USE YOUR CONTACTLESS CARD:

Look for the contactless symbol on the payment terminal.
Tap your card.

Wait for the beep or green light before removing your card.

You can put your card away - you won't need it again.

Follow any on screen instructions

You might be asked to enter your PIN or sign.


Visa Credit Card through Home Trust & Savings Bank


Personal Credit Cards:
Visa® Platinum Cash Rewards

Earn 1% cash rewards on all transactions

14.49% APR for purchases, balance transfers, and cash advances

$0 annual fee
Visa® Platinum Rewards

Earn 1 point for every dollar spent on all transactions

12.99% APR for purchases, balance transfers, and cash advances

$0 annual fee
Visa® Platinum

Leave your card at home - Apple Pay, Google Pay™, and Samsung Pay enabled

10.99% APR for purchases, balance transfers and cash advances

$0 annual fee


Business Credit Cards:
Visa® Platinum Business Rewards

Earn 1 point for every dollar spent on all transactons

13.50% for purchases (Current Prime Rate + 8%).  This APR will vary with the market based on the Prime Rate

$25 annual fee
Visa® Platinum Business

Leave your card at home - Apple Pay, Google Pay™, and Samsung Pay enabled

13.50% for purchases (Current Prime Rate + 8%).  This APR will vary with the market based on the Prime Rate

$0 annual fee